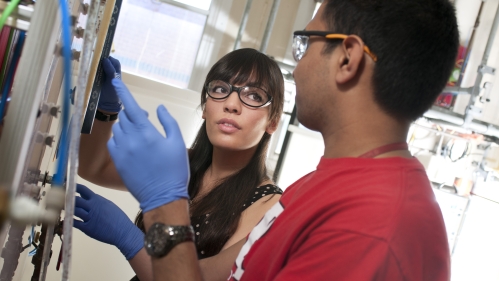 Academics
Our Chemical and Biochemical Engineering program combines classroom and laboratory learning with research and many opportunities for innovative, practical training.
Innovative, Practical Training
Our state-of-the-art labs give our students the resources to conduct research in areas including fermentation, distillation, pharmaceuticals, process engineering, biomedical engineering and biotechnology. Students use cutting-edge software to perform and interpret computationally intensive simulations and to visualize complex data representations.
Undergraduate
Our low student-to-faculty ratio ensures that our expert faculty members work closely with students to provide them with the skills they need to begin their careers. Through our ABET-accredited program—which combines traditional classroom learning with laboratory experience—our students graduate with a solid understanding and appreciation of chemical engineering in the real world. Many of our undergraduates also participate in research, exploring fields including process engineering, biotechnology, and pharmaceutical engineering.
Graduate
The graduate programs in Chemical and Biochemical Engineering at Rutgers University–New Brunswick provides a range of unique opportunities for advanced training and research across the chemical engineering discipline. We combine an innovative educational experience with many opportunities for practical training and connections to local industry and professional societies.