Curriculum Highlights
Core courses and electives—for both thesis and non-thesis degree options—are supported with close advising and mentoring by expert faculty. We offer:
A supportive and stimulating environment that promotes students' individual and professional growth
Core chemical engineering courses in:

Advanced Chemical Engineering Thermodynamics
Advanced Transport Phenomena I: Momentum Transfer
Advanced Transport Phenomena II: Heat and Mass Transfer
Kinetics, Catalysis, and Reactor Design
Analytical Methods in Chemical and Biochemical Engineering

Electives in a wide range of topics from multiple areas in chemical and biochemical engineering
Practical training courses, including industrial internships
Non-thesis MS degree option in pharmaceutical engineering that trains students in the knowledge and skills needed to succeed in next-generation pharmaceutical product design and manufacturing
Conveniently scheduled evening courses provide maximum flexibility to working professionals
Opportunity to take catch-up courses for students without an undergraduate degree in chemical engineering as part of the degree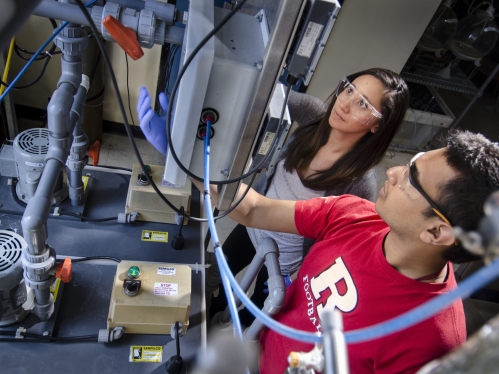 MS Degree Requirements
Students complete 30 credits of course work including 15 credits of core courses and 15 credits of electives.
Core Courses
Non-thesis option: 15 credits of electives (at least 6 from within CBE)
Thesis option: 9 credits of electives, 6 credits of thesis research. ​In addition, students must submit a thesis on their research.
Electives and Research
Students take 9 credits of technical electives (essentially any 500+ level mathematics, science or engineering course, including CBE)
​​6 credits of thesis research 
Departmental seminar (each semester)
Academics and Research
Students enjoy many opportunities for research under the guidance of our expert faculty.
Cross-disciplinary researchers from major universities come together at centers such as the Center for Structured Organic Particulate Systems (C-SOPS), which is improving how pharmaceuticals and other products are manufactured, and the Catalyst Manufacturing Center.
Cutting-edge equipment includes Raman spectrometer with confocal microscope, gas-phase kinetic reactors, high-performance imaging systems, and thermogravimetric analyzer, along with advanced computational resources and software systems.