Benjamin Schuster Receives Prestigious National Science Foundation CAREER Award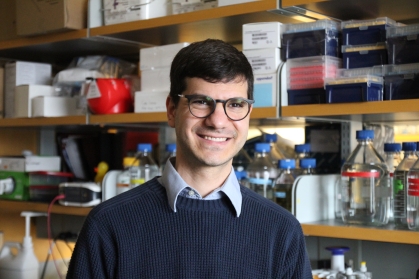 The $654K award supports his lab's research and related education efforts 
Benjamin Schuster, an assistant professor in the Department of Chemical and Biochemical Engineering (CBE), has received a five-year, $645,000 National Science Foundation CAREER award to support his lab's development of protein-based biomaterials for pharmaceutical manufacturing. 
The competitive CAREER grant funds research and educational initiatives of faculty at the beginning of their careers. Schuster, who holds a doctoral degree from Johns Hopkins University, joined the School of Engineering faculty in 2019 after completing a postdoctoral fellowship at the University of Pennsylvania.  
"I am grateful to the NSF for funding this award," says Schuster. "Having stable funding for the lab makes it possible to conduct long-term projects that are challenging but could have large impacts. I'm also grateful that the NSF was as excited as I am about the education and outreach components of the award." 
Engineering Affordable, Green Pharmaceutical Manufacturing 
Schuster employs a range of approaches – from protein engineering and biomanufacturing to biophysics and nanotechnology – to engineer biomaterials. 
Professor and Chair of the Department of Chemical and Biochemical Engineering Helen Buettner says, "Ben Schuster's NSF CAREER award not only recognizes the cutting-edge research he will conduct in his Schuster Lab, but its educational component also supports our department's commitment to preparing engineers who will lead the way in discovering innovative solutions to pressing industry and societal challenges."  
Several ongoing projects in his lab, according to Schuster, are the foundation for his CAREER award project. 
To begin, the project will examine surfactant-like proteins that may help determine the structure and function of intracellular assemblies called biomolecular condensates. These proteins, in turn, will then be engineered into immobilized enzyme biomaterials for synthesizing pharmaceuticals via bio-catalysis. 
"What we're trying to develop are technologies useful for manufacturing complex pharmaceuticals in a more sustainable and cost-effective manner, compared to traditional approaches," explains Schuster. "Along the way, we're also aiming to make discoveries about self-assembling proteins."  
Educational Opportunities 
Linking his research to educational opportunities is an additional component of the CAREER award. "The unique aspect of the CAREER award is that it integrates the research and teaching hats I wear as a professor," Schuster says.  
In fall 2022, he started his "Ethics for Biochemical Engineers" program, designed to train students to address ongoing and emerging ethical challenges – ranging from environmental sustainability to affordable medications – that students may encounter during their careers. 
"I'll continue to develop the program in the coming years," Schuster reports. "While it's currently directed towards seniors in the CBE department, I soon plan to engage graduate students as well." 
Regarding lab-based educational opportunities, Schuster describes his Rutgers doctoral students as "the heart that keeps my lab beating. They're in the lab daily conducting experiments, analyzing data, and making projects work. We'll also be inviting undergraduate students to participate in the CAREER project, partnering with the RISE and REU summer programs to expand research opportunities to students of diverse backgrounds."