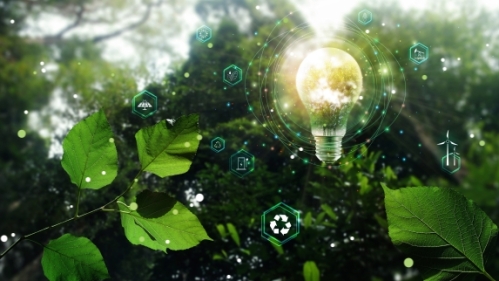 Clean Energy and Sustainability
Overview
Chemical engineers have a critical role to play in addressing climate change and providing sustainable sources of clean energy, food, and water for a growing world. Rutgers chemical engineers are developing new materials and technologies to enable renewable and alternative energy sources, optimizing systems to reduce carbon emissions, and devising novel method to upcycle waste and remove contaminants from water.
Faculty
Tewodros (Teddy) Asefa, Fuat Celik, Shishir Chundawat, Gregory Dignon, Ashley Guo, Diane Hildebrandt, Alexander Neimark, Nina Shapley, George Tsilomelekis
Research Topics
·    Renewable and alternative energy sources
·    Energy and environment
·    Climate change
·    Catalysis and catalytic reactions
·    Cellulosic biofuels and biogas
·    Energy efficient processes
·    Reactor design and optimization
·    Wastewater treatment
·    Waste to energy
·    Materials for sustainable design
Research Clusters
Renewable and Alternative Energy
Faculty: Asefa, Celik, Hildebrandt, Tsilomelekis
We use a combination of experimental, and theoretical techniques including in-situ and operando spectroscopy, quantum mechanical modeling, synthesis, characterization, kinetic measurements, and reactor modeling to discover and design new catalytic materials or new ways to use existing catalysts that enable renewable and alternative energy sources.
Energy Efficient Processes
Faculty: Celik, Hildebrandt
The efficient use of raw materials is essential for sustainable design and manufacturing, and an important strategy for reducing environmental waste. We apply the principles and tools of chemical engineering design to develop energy efficient processes and reduce carbon dioxide emissions. We also study the social and technoeconomic aspects of new thermochemical technologies.
Pollution Reduction and Waste Upcycling
Faculty: Chundawat, Guo, Shapley, Tsilomelekis
We develop new materials and processes for reducing, removing, and upcycling environmental waste. This work involves engineering hydrolytic enzymes for efficient bioconversion of carbohydrate polymers to value-added bioproducts, as well as experimental and computational design of new materials and methods for removing molecular contaminants from water.
Additional Research Areas